The past year was dominated by human tragedy and suffering, and also the best of the human spirit to overcome the same.  While the September 11th bombing is still vivid for most of us, the New Year brings us the anniversary of the Gujarat earthquake. As in the case of the WTC tragedy, there was an outpouring of generosity and kindness in the wake of the Gujarat earthquake.  However, rebuilding efforts are slow and the region still suffers from repeated aftershocks (the last one as recently as January 10th, 2002; measuring approximately 4.0 on the Richter scale!) that cause fresh damage to work rebuilding work already performed.
<![if !supportEmptyParas]> <![endif]>
You will be happy to learn that our Association donated a sum of $500 to be used towards the repairs of 3 convent schools in Gujarat that are run by the Apostolic Carmel. The school in Kutch (the epicenter of the earthquake) suffered the most damage.  Fortunately a majority of the approximately 2,500 students were attending outdoor celebrations to commemorate India's Republic Day and hence the loss of life was confined to the 9 unfortunate children who were unable to attend school that day.  Additionally, approximately 30 students lost one or both parents to the tragedy.
<![if !supportEmptyParas]> <![endif]>
<![if !vml]>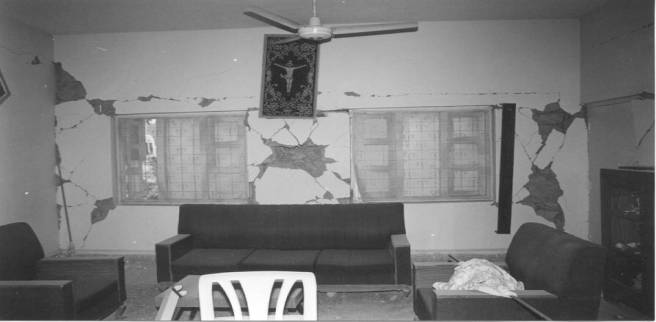 <![endif]>While the munificence of aid - both financial and personal – has never ceased, the rebuilding has been slow due to the lack of sufficient labor and materials to cater to the sheer enormity of repair and new construction to be performed in Gujarat. The Carmel Sisters have almost completed all the repair work on the 2 schools in Ahmedabad.  Unfortunately, work on the school in Kutch continues to progress slowly and in addition to the Sisters' residence only the ground floor has been completed
so far.  Classes for the majority of the students are conducted in temporary prefabricated buildings that do not provide much shelter against the elements.  Nevertheless, all work will hopefully be completed by the end of year.
<![if !supportEmptyParas]> <![endif]>
Any further donations by our members will be welcomed by the Carmel Sisters who will use these donations for not only their own rebuilding, but also to assist members of their teaching staff to rebuild their homes and their lives. Please make your donations payable to AMAR SEWA SAMITI - a non-profit organization set up specifically for the above cause.Your donations should be mailed to the Goan Association of NJ, P.O. Box 335, Cranbury, NJ 08512
One Year Later, The Repairs Continue...